Marrakech Vacations
I
nland at the feet of the Atlas Mountains is Morocco's third-largest city, Marrakech – one of the most fascinating travel destinations in the world. At its heart is the ancient walled city, the Medina, with its kasbah (fortress), the largest souk (market) in Morocco and magnificent Moorish palaces, built centuries ago by unimaginable wealth.
The Medina's undisputed focal point is Jemaa el-Fna, the busiest square in all of Africa. By day, it's a market; by night, the square takes on an exotic carnival atmosphere. Visitors can be tempted by alluring aromas from the food stalls while enjoying a parade of snake charmers, musicians, acrobats, dancers and even the occasional runaway ostrich.
Amanjena Hotel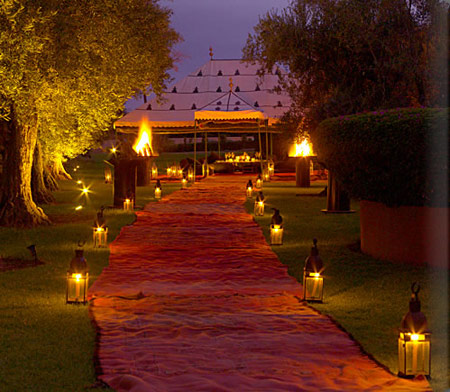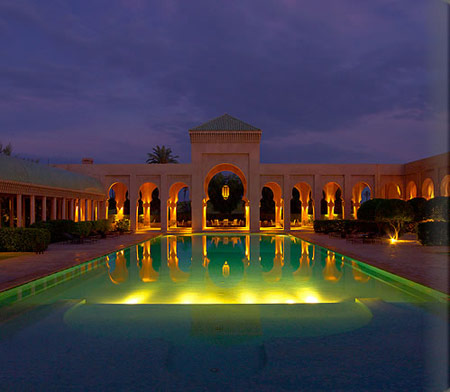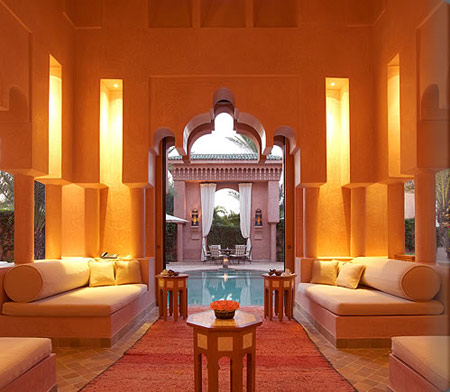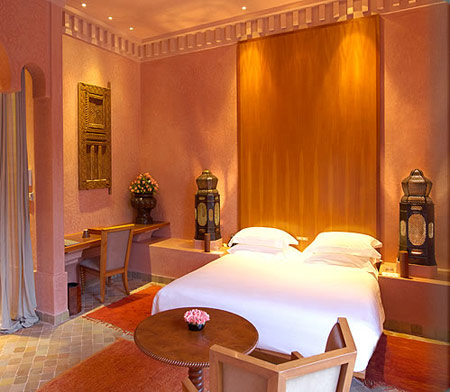 Amanjena Hotel ("peaceful paradise") is the first Amanresort on the African continent.
The resort's 32 pavilions, six, two-storey maisons and largest accommodation, the Al-Hamra Maison, are set within an oasis of palms and mature olive trees. Amanjena's rose-blush walls mirror Marrakech, known in Arabic as Al Medina al-Hamra (the red city). The resort's design emulates the old Moorish pise (packed earth) buildings, as well as the Berber villages that cling to the High Atlas Mountains. Marrakech was brought to radiant life by the brilliance of 11th-century Almoravid irrigation. Water is no less the unifying element of Amanjena, which has as its centrepiece, a large bassin, traditionally a holding pool to collect water for irrigation. Amanjena's pavilions and maisons extend from the bassin, fanning out in two directions, separated by reflecting pools in a landscape of lawns and vines, emerald-clay roofs, marble fountains and glittering hand-cut, glazed tiles (zellij).
All of the resort's 32 air-conditioned pavilions include a bedroom-living room and spacious bathroom and dressing area. The living area consists of a high, domed ceiling, a king-size platform bed and an open fireplace. Brass lanterns and Berber carpets discreetly reinforce the Moroccan theme. Furnishings include a daybed with an accompanying table and chair. The suites have a mini-bar, a CD player and a TV/DVD, while green Moroccan marble and a soaking tub in a garden setting highlight the bathroom. Each pavilion has its own private courtyard along with a pillared minzah (gazebo) and a fountain. Amanjena's six two-storey maisons rise seven metres from floor to ceiling in a variation of the Moroccan townhouse, with trines of second-floor windows looking inward, as if to a garden courtyard. The living area, located on the main floor, features an arc-cut fireplace, a zellij wall fountain and a small bathroom. The guest bedroom, with its queen-size bed, full bathroom, double change areas and separate courtyard entrance, is also located on the entry level. Upstairs, the bathroom is defined by marble columns, domed shower, toilet rooms and a pillared, green-marble tub. The bedroom comes with a king-size bed and divan. The maisons also offer a private six-metre swimming pool, a garden and minzah.
With a convenient location at the edge of Marrakech, Amanjena provides the ideal base for further exploration of Marrakech and beyond. The city itself, with its gardens, souks, art and culture, is just seven kilometres away and the resort looks out onto the snow-capped High Atlas Mountains, the highest range in North Africa. Carefully constructed private tours and treks, taking in local highlights, are easily arranged.
Four Seasons Hotel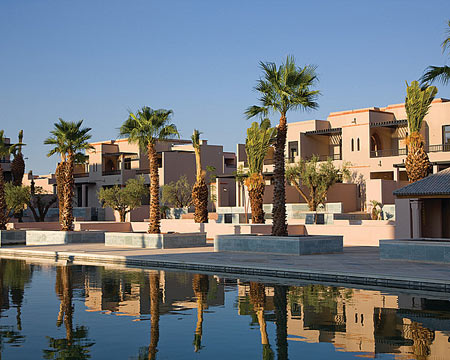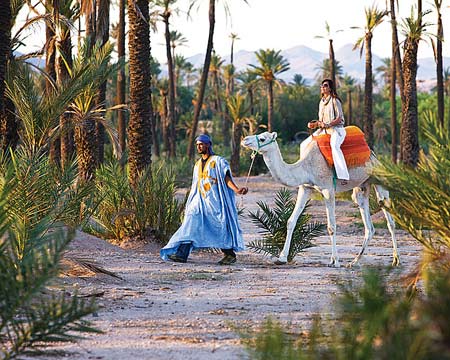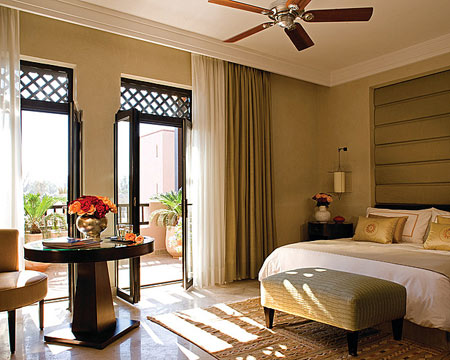 Welcome to Four Seasons Hotel Marrakech. An easy walk from the ancient ramparts of the Medina and across from the Menara Gardens, the rose-hued walls of Four Seasons Hotel Marrakech enfold a resort and spa in 40 acres of sunlit Moorish gardens – filled with birdsong, fountains and infinite rewards for families, couples or groups. This elegant Moroccan medina – with its light, contemporary touch – is calming and comfortable, private yet inspiringly open. Revel in savvy Four Seasons service as you relax, reflect and reconnect. Discover a refreshing new way to experience exotic Marrakech
Palais Namaskar Hotel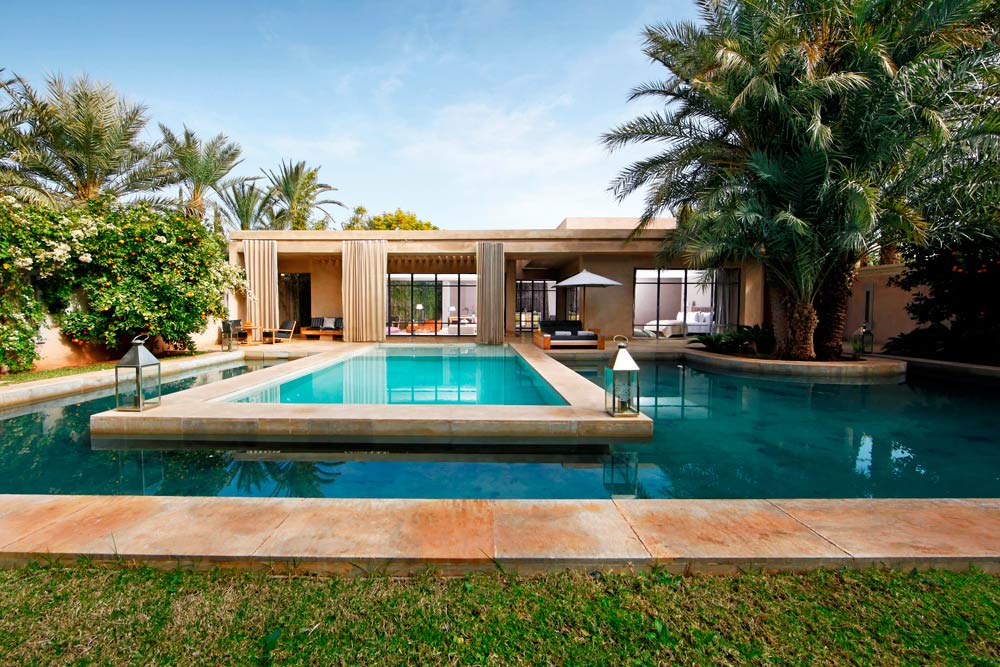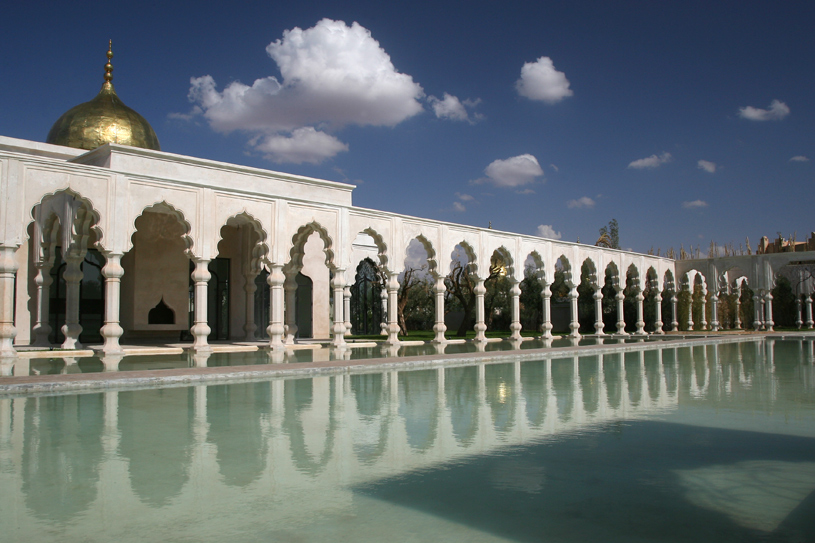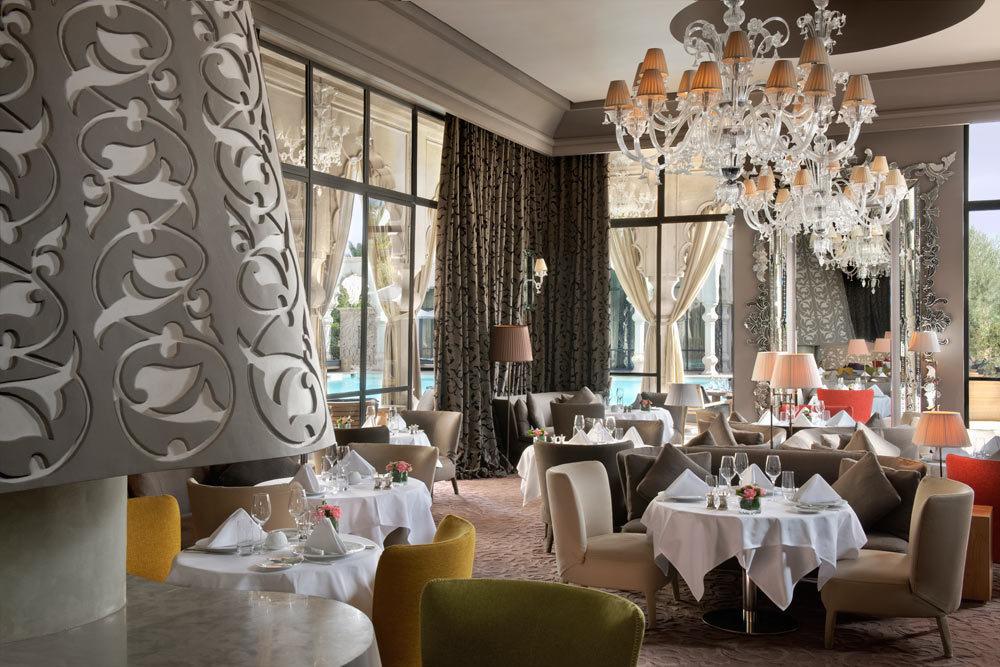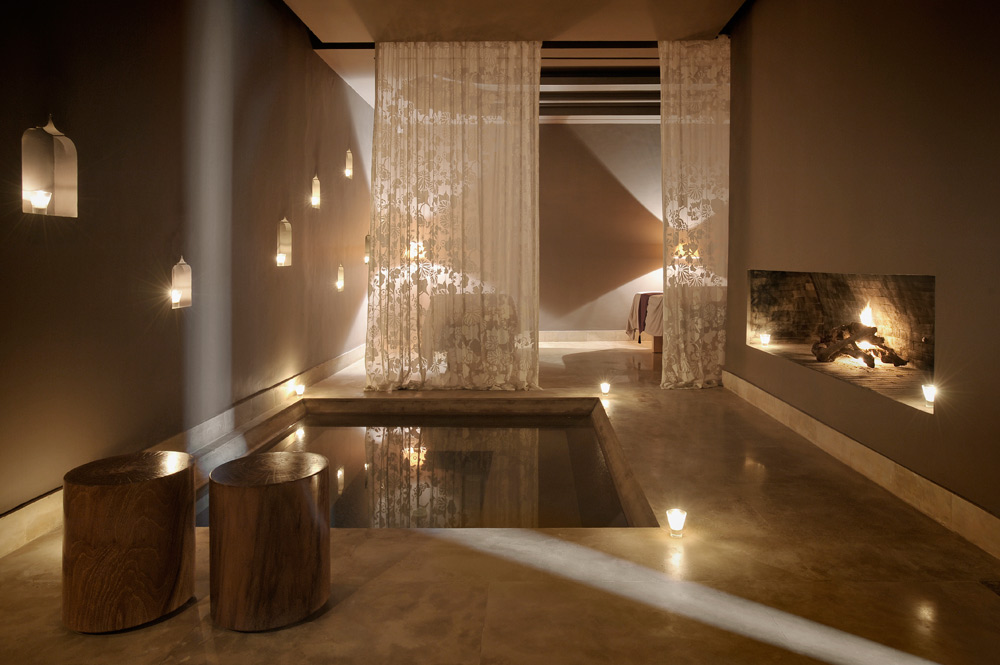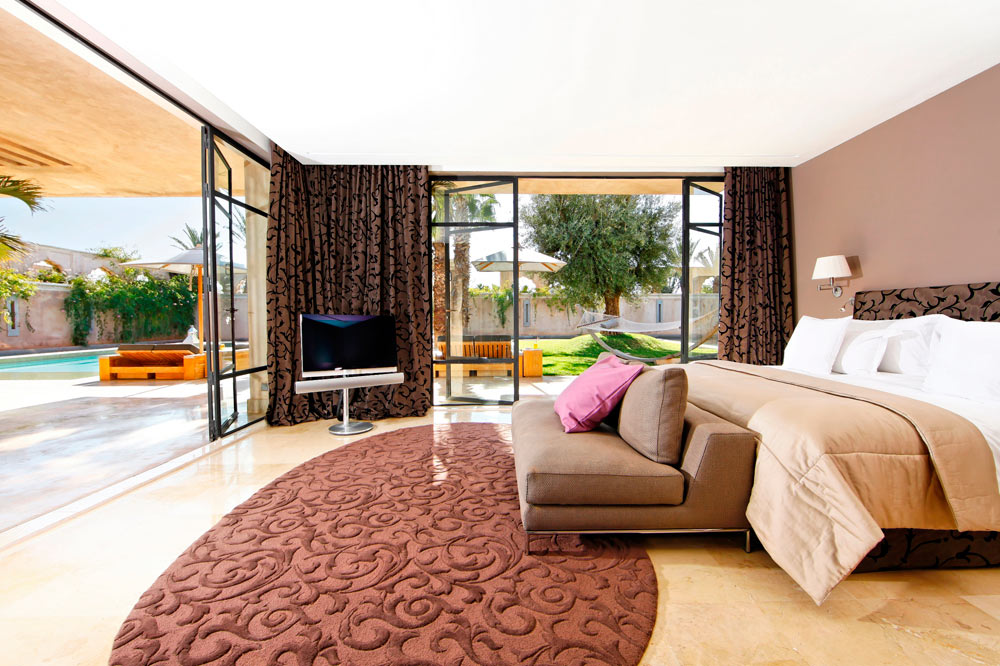 Palais Namaskar explores new dimensions in hospitality.
Commanding more than 12 acres of pristine seclusion, tranquil lakes and inspiring panoramas - indulging guests with unrivalled spaciousness, personal freedom and majestic grandeur to create an undeniably unique experience.
5 Star accommodation at Palais Namaskar hotel in Marrakech is a harmony of timeless elegance and extravagant personal space with exceptional views of mountains, lakes and scented gardens. The décor is a vibrant combination of Eastern-inspired architecture infusing Feng Shui principles with contemporary interior design. Palais Namaskar hosts a total of 41 units comprising of three kinds of rooms, four types of suites, two styles of luxury villas and two extraordinary palaces. Some units feature terraces while others offer outdoor Jacuzzis and heated pools. The luxury villas offer private pools and dedicated outdoor areas, while the 5 star palaces also include private kitchens and butler services. Certain rooms and suites can also be merged to create customised living environments.
Hotel La Mamounia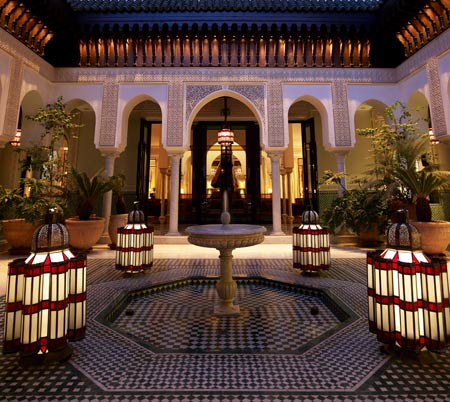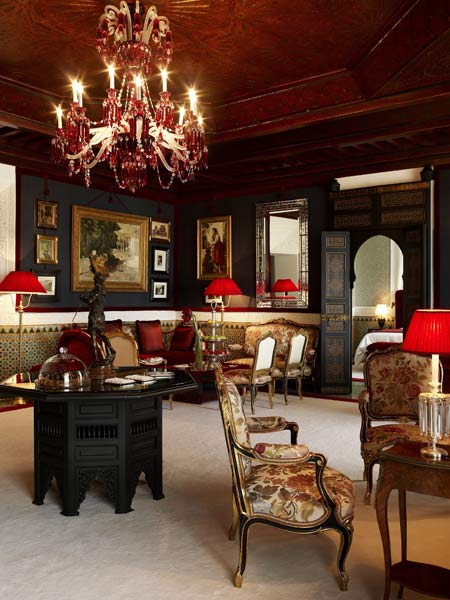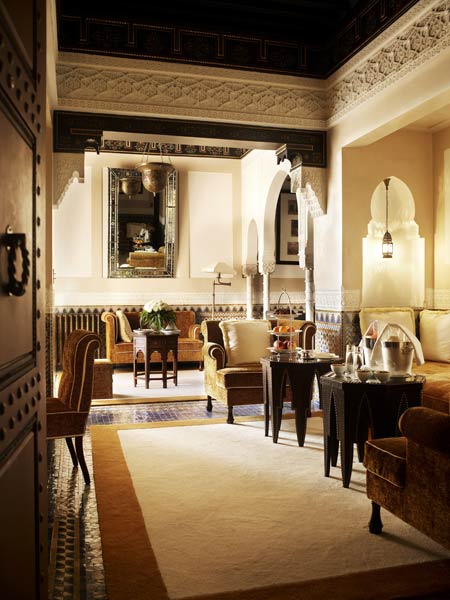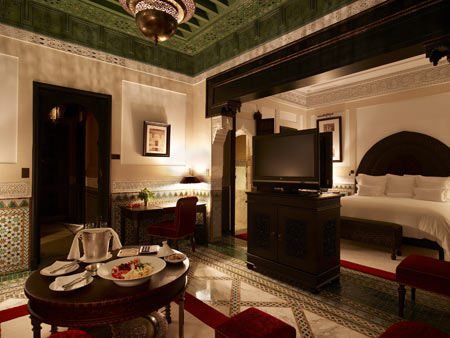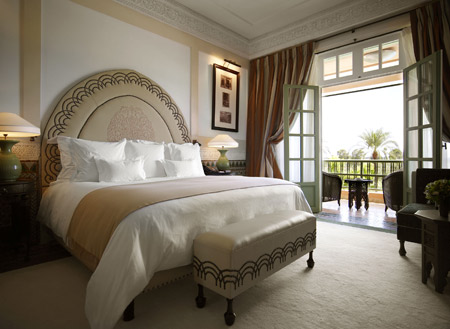 After a three-year, $176 million makeover,
the Mamounia is reborn, more beautiful, more sumptuous, and more magical than ever before.
Today, more than ever, La Mamounia offers an outstanding sensory experience, surpassing the standards of other luxury hotel groups. With its unique and ancient name, La Mamouina invites you for a tailor-made stay, thanks to those among us who have chosen hospitality as their profession and their passion.
Heir to a rich tradition, La Mamounia meets all expectations of contemporary travellers who are in search of an authentic experience yet keen to preserve the heritage they find.
Royal Mansour


Royal Mansour, set within the walls of Marrakech's old city, is an oasis of elegant riads, quiet courtyards and intimate restaurants. Centered on a main courtyard with fountains and colorful mosaics, the hotel has an art gallery and a peaceful enclave for afternoon tea. There are three restaurants under the consultancy of Michelin-starred chef Yannick Alléno: French haute cuisine, traditional Moroccan and the international La Table. Service is polished and discreet: there is an underground system of tunnels leading to the individual guest riads, accessed only by staff, ensuring absolute privacy and quiet.